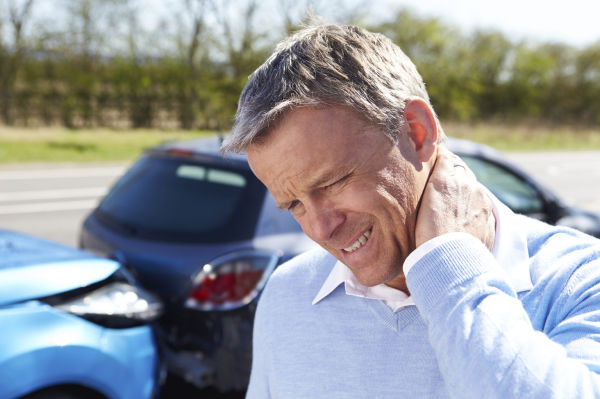 In the UK, the "whiplash capital of Europe," for every single accident reported, there are 2.7 claims for whiplash damages. In the United States, whiplash injuries make up for 25% of payments made by insurance companies, with approximately $2.7 billion being paid out annually. So, it is clear that whiplash is a claim to be reckoned with.
So, what exactly is whiplash? Whiplash is caused by the head's jerking action pulling muscles and ligaments beyond their typical range of motion, causing fibers to tear. Torn fibers in muscle or tendon is termed a "strain." If it involves a ligament, it is referred to as a "sprain." Whiplash often involves a combined strain and sprain. A whiplash injury can involve cervical muscles, intervertebral joints, disks, ligaments and/or nerve roots. Most often it is limited to soft-tissue injury. However, whiplash injuries can be complex and could include many related problems such as joint dysfunction, disk herniation, nervous system problems, chronic pain, and cognitive dysfunction.
Symptoms of whiplash become apparent usually within the first 24 hours following the accident, but typically appear within the first six to 12 hours. Symptoms can continue to get worse days after the injury. Common symptoms often include neck pain and stiffness, and headaches that usually start at the base of the skull. Other symptoms might include: dizziness, pain that hurts more with neck movement, fatigue, loss of range of motion in the neck, tingling or numbness in the arms, and/or tenderness or pain in the upper back, shoulder or arms.
Risk factors for whiplash include degenerative disease, pre-existing health problems, vehicle size, headrest position, position of head at impact, and age. Women and children are more seriously injured then men because they have smaller necks. Not using the shoulder harness and failure to wear a seatbelt greatly increase the risk of whiplash injury.
So, how is whiplash treated? Usually, recovery is complete within the first few months, though some people experience ongoing symptoms. Generally, symptoms that extend beyond six months are considered chronic. Typically, treatment includes pain medication and special exercises to help increase range of motion in the neck.
Here are some interesting facts about whiplash:
A cervical spine soft tissue injury can occur in a motor vehicle traveling at only 5 miles per hour
Most injuries occur at speeds below 12 miles per hour
Crashed vehicles can often withstand collision speeds of 10 miles per hour with no damage
It is normal for a delay in the onset of whiplash symptoms, which means someone could say they weren't hurt at the time of accident and then complain of pain later
Mild traumatic brain injury can be the result of a whiplash-type injury
Up to 10% of whiplash patients become totally disabled
Studies since 1956 show that over 60% of whiplash injuries required long-term medical follow-up
Want to learn more about Whiplash? Register to attend the 2017 Advanced Topics in Civil Litigation. For more information or to register, click here.
Sources:
http://www.truckinfo.net/trucking/whiplash-statiscs.htm
http://www.livescience.com/54566-whiplash.html
http://www.bbc.com/news/magazine-34925933
http://www.spine-health.com/conditions/neck-pain/what-whiplash
Back to Blog